TrailerRide Horse Calming Supplement with Electrolytes
TrailerRide Horse Calming Supplement with Electrolytes
Brand new product from the designers of BetterRide!  Keep your horse calm and healthy on the road.  Using the GutHealth Xtra Strength as a base to help your horse's hindgut stay healthy and increase absorption of active ingredients. TrailerRide Horse Calming Supplement then adds the calming benefits of the BetterRide and in addition to that helps boost immunity, increase drinking, and provides respiratory support. Everything you need to make sure your horse is as healthy when he arrives at your destination as when he left!
TrailerRide Horse Calming Supplement is available in an easy to use 1 oz. syringe.  This is a smaller syringe than many equine products, making it easier to hold and dispense into your horse's mouth. This ensures your horse is getting all of the healthy benefits of the whole tube!
Calming Supplement for horses of all sizes, ages, and activity levels. 
Developed to benefit horses, TrailerRide is an all-natural drug-free solution formulated to minimize gastric distress by stabilizing the hindgut.    
Designed to provide immune boost as well as respiratory support with electrolytes that encourages horses to drink, keeping them hydrated. 
May

Minimizes

trailering

anxiety and gastric distress

 

Encapsulation of active ingredients allows for safe increased absorption

 

May help alleviate separation anxiety

 

Excellent source of immune-boosting vitamin C 

 

May provide

Respiratory support

 

Provides essential electrolytes including sodium, magnesium and calcium to encourage drinking

 

Does Not Contain Any Prohibited Substances

 
Show safe ingredients: 
Calcium Carbonate

 

Camelina Oil

 

Filtered Water

 

L-Theanine

 

L-Tyrosine

 

Magnesium Glycinate

 

Methylsulfonylmethane (MSM)

 

Microencapsulated Ascorbic Acid

 

Microencapsulated Sodium Bicarbonate

 

Microencapsulated Sodium Chloride

 

Microencapsulated Zinc oxide

 

Pure Aloe Vera Gel Fillet from Powder Concentrate

 

Sodium Benzoate

 

Taurine

 

Tryptophan

 

Xanthan Gum

 
Feeding guidelines:
For best results, give one tube 24 hours and 1 hour prior to loading horse on trailer. Extended trips/flight every six hours or as needed. 
Developed and manufactured in the USA

 

We guarantee the potency and analysis of the product. However, we cannot guarantee palatability or acceptance.

 

KEEP THIS PRODUCT OUTSIDE THE REACH OF CHILDREN

 

Not intended for human consumption

 

Store between 32F and 100F

 

If horse's condition does not improve or worsens stop product use and consult your veterinarian.

 
View full details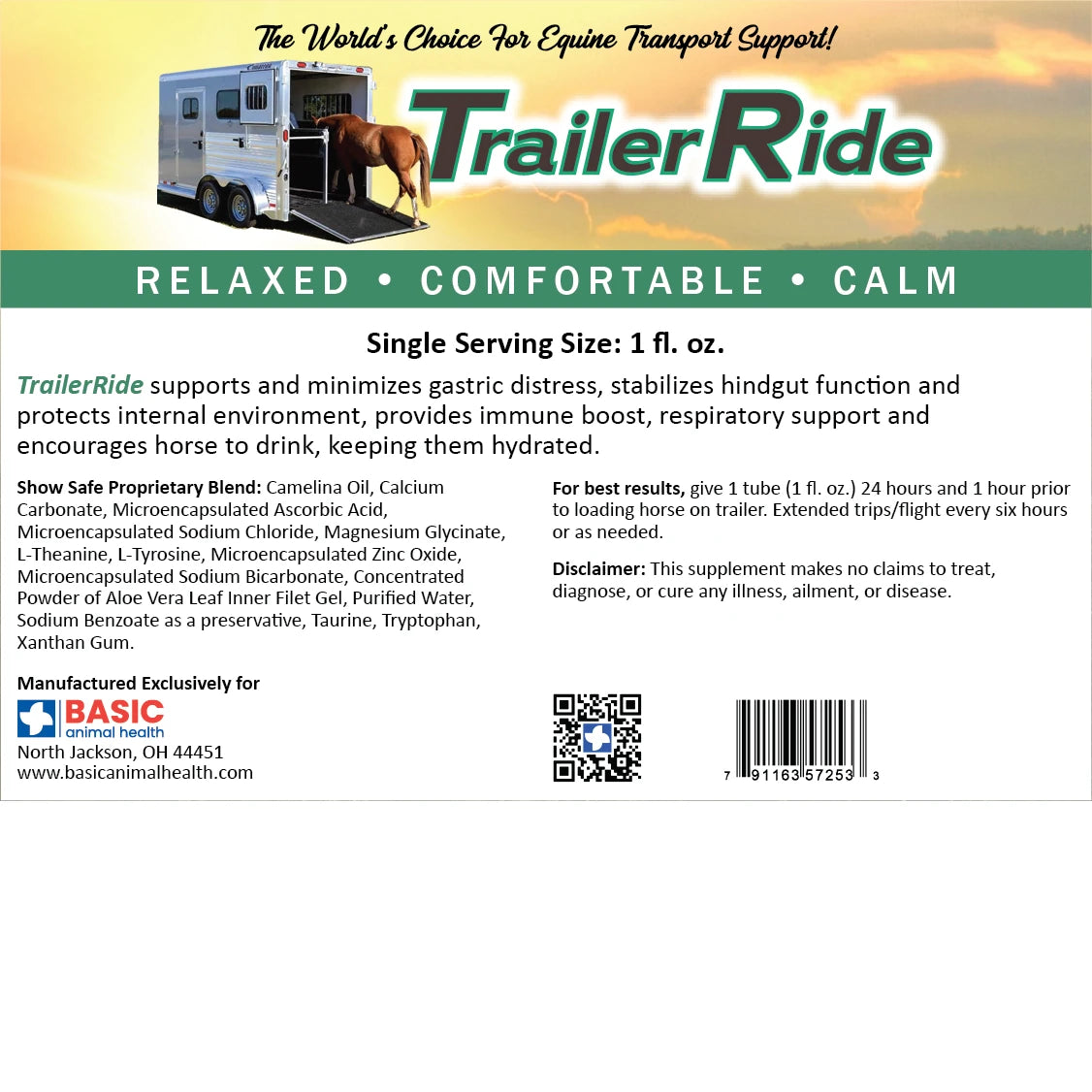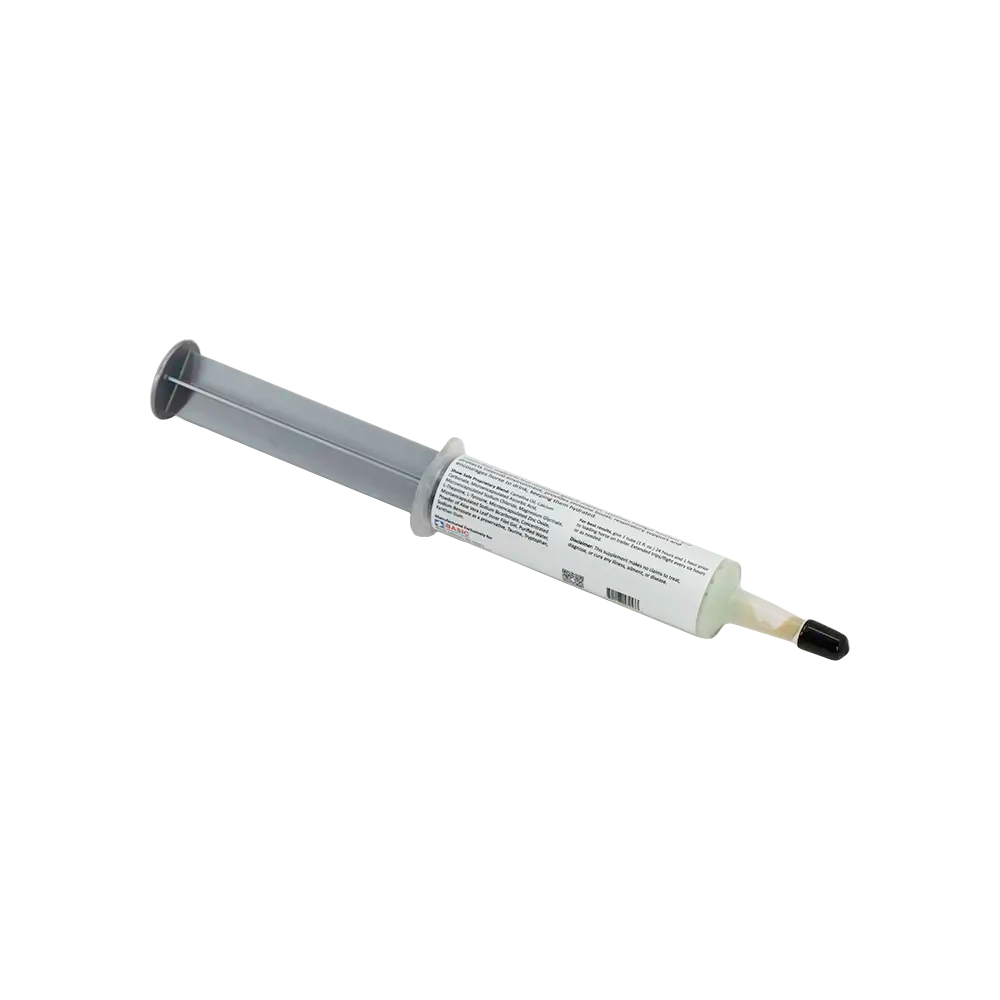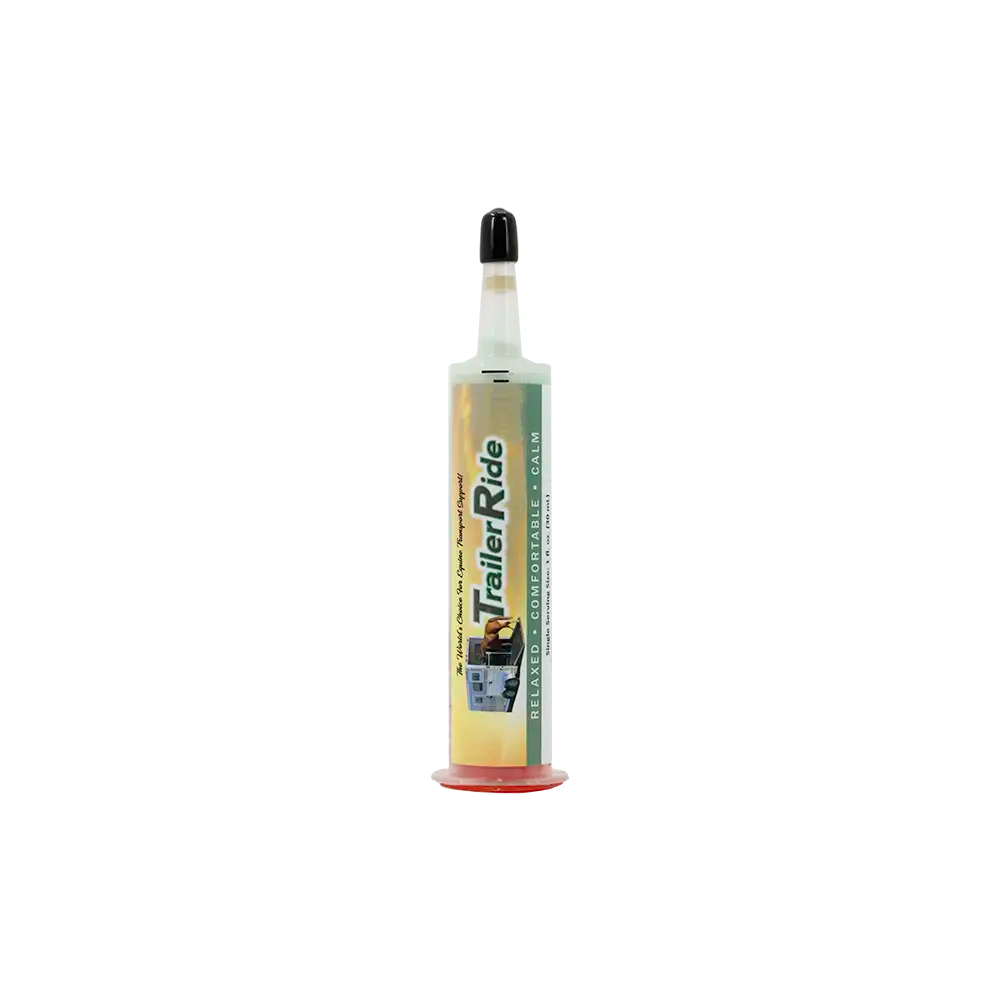 TrailerRide Horse Calming Supplement with Electrolytes