MuscleHealth Gel Supplement for Horses - 12 Pack
MuscleHealth is a revolutionary daily feed supplement blend specially formulated to optimize equine muscle health and unlock your horse's full potential.
MuscleHealth specifically addresses your equine athlete's muscle needs:

By promoting muscle relaxation, reducing muscle cramping, and aiding in energy production, Magnesium Glycinate helps your horse maintain optimal muscle health and reduces the risk of performance-limiting issues.
BCAAs are the building blocks of muscle protein synthesis, and their supplementation has been shown to enhance muscle recovery, reduce muscle damage, and support lean muscle mass.
By promoting the transport of fatty acids into the mitochondria, ALCAR helps generate energy, optimize muscle endurance, and accelerate post-exercise recovery, allowing your horse to push their limits while minimizing fatigue.
The combination of Magnesium Glycinate, BCAAs, and ALCAR in Muscle Health creates a powerful synergistic effect. This unique blend works harmoniously to promote muscle relaxation, reduce fatigue, support protein synthesis, and enhance overall muscle health. Together, these ingredients create the ideal environment for your horse's muscles to thrive.

Unleash Your Horse's Potential with Muscle Health

Muscle Health isn't just another supplement; it's a game-changer for your equine partner. Whether you're competing in high-intensity events or simply seeking to improve your horse's overall well-being, Muscle Health is the solution you've been searching for. Witness the transformation as your horse achieves unparalleled muscle strength, enhanced endurance, and accelerated recovery.
View full details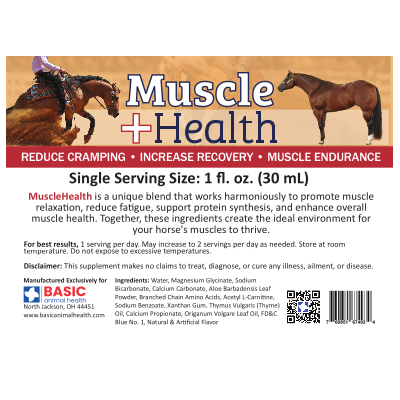 MuscleHealth Gel Supplement for Horses - 12 Pack