GutHealth Xtra Strength Liquid Supplement for Horses
Sku:

GHLQ1001

Type: Liquid
GutHealth Xtra Strength Hindgut Stabilizer Liquid Supplement for Horses
GutHealth Xtra Strength Gastric and Digestive Liquid is now available in a more concentrated formula! Now you can use LESS liquid for the same results! One quart will last one horse for 30 days! Get a 2 Liter and double that!
GutHealth Gastric and Digestive Xtra Strength liquid is a hindgut stabilizer gastric aid and digestive supplement available in One (1) quart or Two (2) liter container for horses of all sizes, ages, and activity levels.
Our all-natural digestive supplement is formulated for horses that exhibit anxiety, weight loss, and behavioral issues from discomfort and digestive stress during competition.
GutHealth Gastric and Digestive Xtra Strength provides an effective amount of pH-elevating encapsulated sodium bicarbonate combined with other active ingredients to immediately soothe esophageal, gastric, duodenal, and cecal irritation caused by decreased gut pH due to diet and stress.
Used daily, GutHealth Gastric and Digestive Xtra Strength will help prevent bloat as well as help control ulcers and ulcer issues, improve appetite and buffer hindgut pH in horses.
The GutHealth Digestive Supplement Advantage:
Helps to soothe acute gastric issues and hindgut discomfort
Encapsulation of active ingredients allows for safe increased absorption where it's needed the most
Provides relief which can improve horse's attitude and willingness to perform
Nourishes for a healthy coat
Supports healthy hoof growth
Aids in weight gain or weight maintenance
May alleviate negative behaviors attributed to discomfort
May be used daily for ongoing hindgut pH maintenance and prevention
Does Not Contain Any Prohibited Substances
GutHealth Xtra Strength Liquid Ingredients:
Calcium Carbonate
Camelina Oil
Microencapsulated Sodium Bicarbonate
Concentrated powder of Aloe Vera Leaf Inner Filet Gel
Filtered Water
Sodium Benzoate (as a preservative)
Xanthan Gum
FD&C Blue No. 1
Feeding instructions:
Pour 1 fluid ounce per day on feed. Can be split into 1/2 ounce morning and evening feedings if desired.
Developed and manufactured in the USA




We guarantee the potency and analysis of the product - However, we cannot guarantee palatability or acceptance.




KEEP THIS PRODUCT OUTSIDE THE REACH OF CHILDREN!




Not intended for human consumption




Store between 32F and 100F
View full details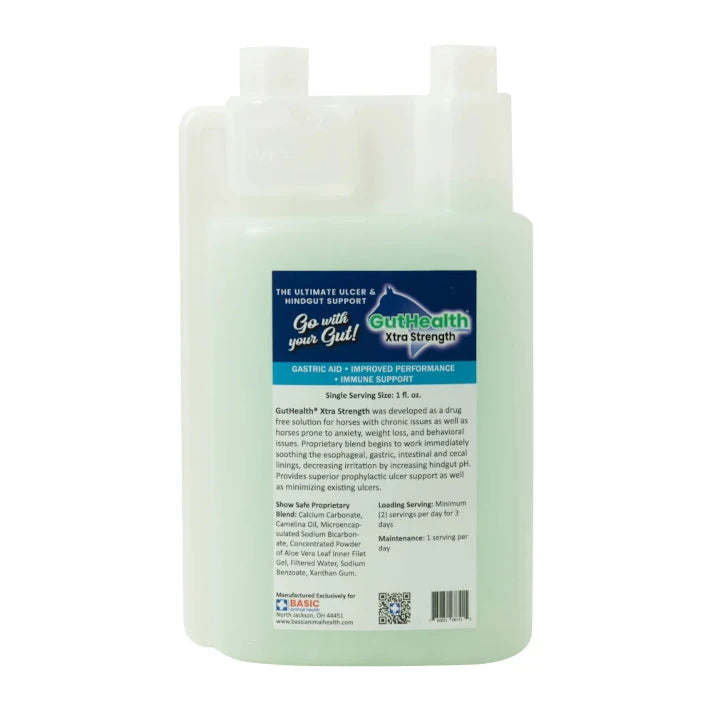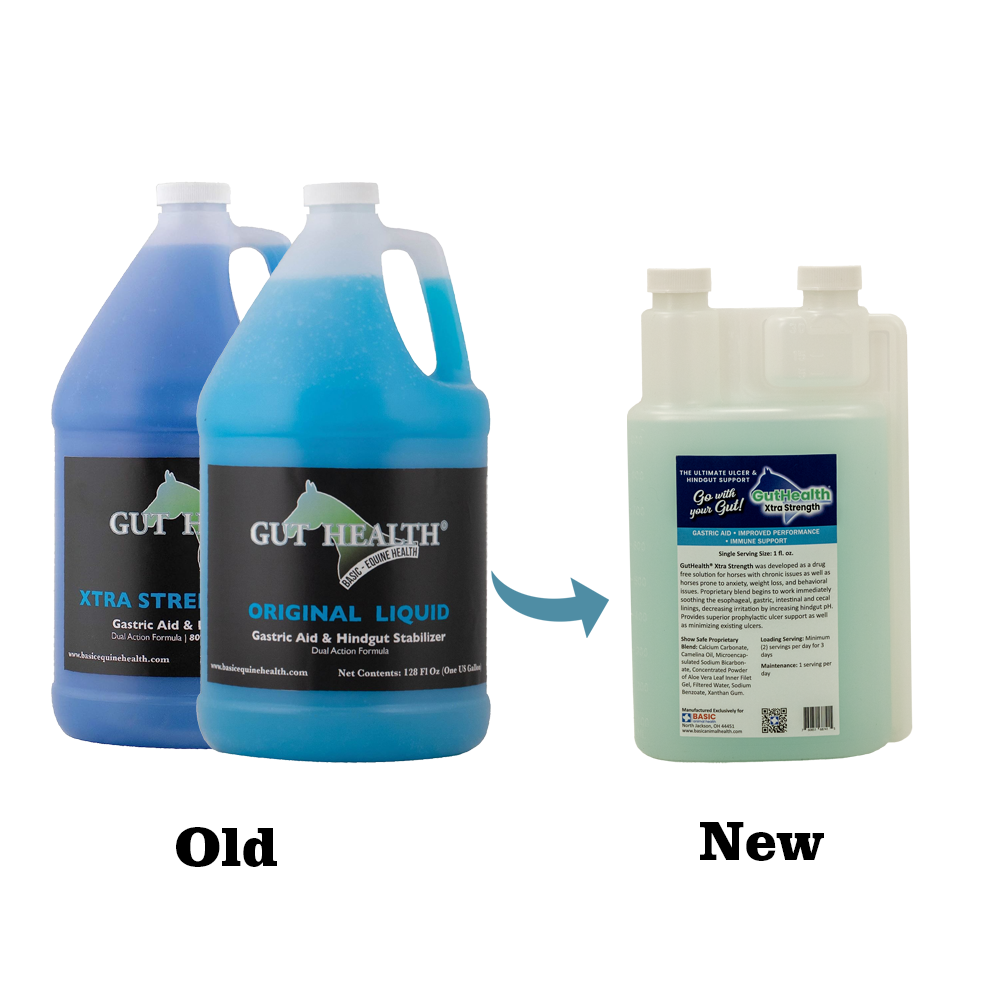 GutHealth Xtra Strength Liquid Supplement for Horses